RFK, Jr shared a lengthy Instagram post implicating Thane Eugene Cesar in the death of his father
Irish Central
Irish Central Staff
(September 13, 2019)
[This post replaced an earlier UK Daily Mail article excerpt on this story with Irish Central's below. -Ed.]
Robert F. Kennedy, Jr says there is "compelling evidence" that Thane Eugene Cesar, and not Sirhan Sirhan, killed his father Robert F. Kennedy in 1968.
Just hours after Cesar died in the Philippines on September 12, RFK, Jr shared an Instagram post with a lengthy caption that began: "Thane Eugene Cesar died today in the Philippines. Compelling evidence suggests that Cesar murdered my father."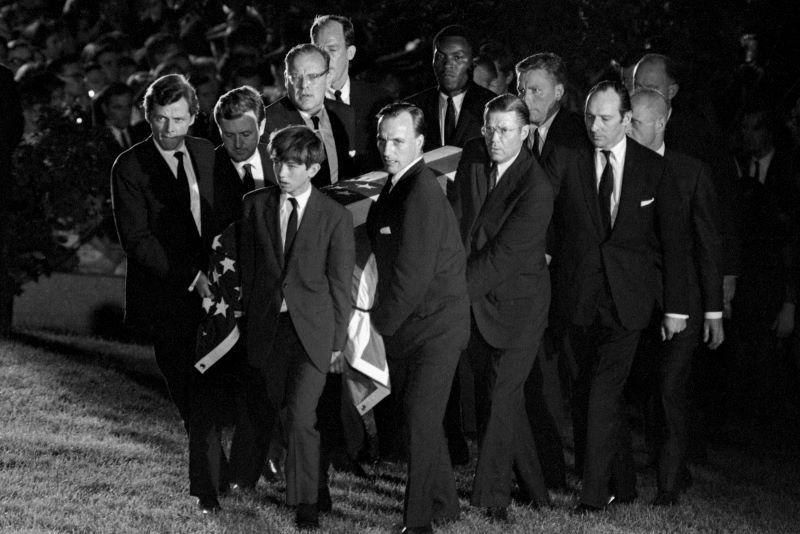 Robert F Kennedy, Jr (at the front) was one of the pall bearers at his father's funeral (Getty Images)
On June 5, 1968, as Senator Robert F. Kennedy was in the midst of his presidential campaign, he had just concluded a speech responding to his primary win in California when he was fatally shot at the Ambassador Hotel in Los Angeles.
RFK, Jr was 14 years old at the time.
24-year-old Sirhan Sirhan was promptly arrested and charged in the politician's death. He was handed the death penalty, which was later switched to life in prison after California abolished capital punishment.