(Updated 5-7-13.)
A chief narrative of the Boston Marathon Bombing (BMB) is that Jeff Bauman was tragically maimed when the first "pressure cooker bomb" detonated at the finish line. The charge blew both of Bauman's legs clear off, leaving him with the disturbing remains of apparently exposed tissue and bone.
Such profound injuries would have severed Bauman's femoral arteries, causing him to bleed out profusely. Indeed, with wounds so severe Mr. Bauman would have lost blood pressure and consciousness in a matter of minutes.
Yet, Bauman does not lose consciousness after having had both legs violently shorn off. On the contrary, little-if-any blood is observable, while the blood on the sidewalk around him is bright red–an unusual hue as normally upon secretion blood swiftly oxidizes and turns a dark red.
As nodisinfo.com points out:
Two stumps, two exposed femoral arteries, yet there is no blood. That is a physical impossibility. There is no heat to this bomb, so the claim for cautery is ruled out. The only other explanation is that this man isn't wounded and that this is a Hollywood play.

With exposed, traumatized femoral arteries there would be arterial spurting. There would be blood splattering in the direction towards the two people before him. Despite this, not a drop of blood can be seen anywhere.[1]
This photo is a closeup of Bauman holding his leg with both hands as he is transported in the wheelchair. Note the two circles on his skin directly above his left thumb. Are these marks intended to identify where to affix a prosthesis?
Further, despite experiencing what must be tremendous pain and trauma, Bauman makes an unusually earnest and persistent effort to keep his head lifted off the ground, while appearing to be particularly concerned with what others are doing close by. Below while arching his head he is seen accompanying a woman close to him making what appears to be a hand signal to parties unknown.
According to CCTV video it took Boston's Cowboy Hero Carlos Arredondo more than five minutes to preempt more qualified medical personnel, apply a tourniquet, and transport Bauman the equivalent of one city block to an awaiting ambulance.
http://www.youtube.com/watch?feature=player_embedded&v=yy-hWcOWL60#!
What effect might injuries as grave as Bauman's have on those unfortunate enough to witness the carnage? A glimpse of such horror took place at a Buffalo Sabres-St. Louis Blues hockey game on March 22, 1989 when a Blues player was flipped over in a tangle with a Sabres opponent, his skate piercing Sabres goalie Clint Malarchuk's jugular vein.[1] Malarchuk lost about one pint of blood in the 10 seconds it took his trainer to halt the flow and save his life.

>>>>>>>>WARNING: GRAPHIC CONTENT<<<<<<<<

http://www.youtube.com/watch?v=OKbwR_XDBa4

Following the incident 11 fans fainted in the stands and two had heart attacks, while three players vomited on the ice. Malarchuk returned to play within days but his near-death experience still haunts him.[3]
Malarchuk's disturbing injury was multiplied many times over in the BMB. It might be suggested, then, that dozens if not hundreds of onlookers would have been thoroughly shattered in the wake of the attack. Corporate media would have jumped at the opportunity of graphically relating such horror to those at home. Many would have been laid out or doubled-over with stress, trauma, and dread. Yet the aftermath–particularly at the bomb scene itself–is arguably far less chaotic, contrasting with the many eyewitness accounts carried in major news outlets of rampant pandemonium, bloodshed and gore.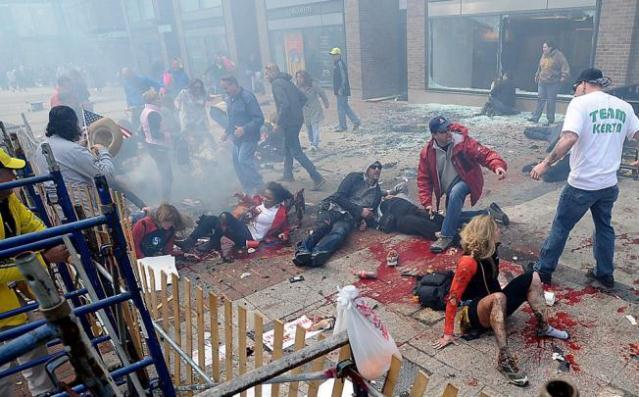 Notes
[1] drkresearch, "The Photo Which Proves it All," nodisinfo.com, May 5, 2013.
[2] Canadian Press, "Malarchuk Still Haunted by Accident," The Sporting News, February 12, 2008. Thanks to Memory Hole commenter "Cheyenne" for bringing this to my attention.
[3] Ibid.
-JFT