… and Got Away With It
By Louis Leo IV Esq.
People Over Politics
Florida Civil Rights Coalition
In 2016, former Florida Atlantic University ("FAU") Professor James Tracy filed a civil rights lawsuit against FAU following the termination of his tenured employment. If one relies on mainstream press reports of his firing they may conclude the action was justified because of Tracy's alleged "harassment" of Sandy Hook parents, and/or his failure to comply with the school's "outside activities" policy.
Yet at its heart, Tracy's case has grave implications for the First Amendment rights of virtually every US academic and government employee. Through their own repeated admissions FAU administrators justified Tracy's termination by arguing that Tracy failed to "disclose" his constitutionally protected political speech for university approval under a vague and confusing school policy.
If this precedent stands unchallenged it will allow virtually any government agency to police employees' extracurricular speech or political activities, and accordingly discipline workers whose views are deemed objectionable.
What do you know about the James Tracy case?
If you get your news and information from "mainstream" media outlets and their affiliates and partners in fake news around the globe, you probably know nothing about the case.
Or if anything, you might think you know some crazy teacher said nobody died at Sandy Hook Elementary School, and lost his job. So what?
Well, if you think Professor Tracy is crazy, or was out of line in his blog postings about Sandy Hook, Tracy is far from alone in casting doubt about the official story. In fact, 24% of Americans surveyed in 2016 acknowledged the massacre may have been faked to promote gun control—a number which will undoubtedly grow as more and more Americans discover the vastly censored body of research and documentaries like "We Need To Talk About Sandy Hook".
Notwithstanding the truth about Sandy Hook, or other government conspiracies, what if I told you that Professor Tracy didn't do anything wrong?
What if I told you that government officials at FAU broke their own rules, and the First Amendment when they disciplined Professor Tracy?
For those who don't care about freedom of speech, you need read no further.
For those who understand and appreciate the fact that FAU, a major American public university, isn't the NFL, and that its government officials aren't allowed to conspire to beat the First Amendment and fire a government employee because of what they say as a private citizen about a matter of public concern, please keep reading.
Professor James Tracy, who has a Ph.D. in mass communications, was an award-winning, tenured communications professor at a government-run university. He was a good teacher who received outstanding and excellent annual evaluations from his supervisors while teaching at FAU for over a decade.
Don't take my word for it. Read his FAU performance evaluations.
Dr. Tracy had no problems or complaints about his teaching at FAU. Even the Vice Provost who terminated Professor Tracy testified that his student evaluations revealed students liked him because he made them think.
It wasn't until Professor Tracy began writing about government corruption, and conspiracies like the Sandy Hook "massacre" on his personal blog, that he became a problem for his government employer.
But there was a bigger problem.
The First Amendment of the United States Constitution.
"Find Winning Metaphors"
FAU officials knew Professor Tracy's blogging was protected by the First Amendment. In 2013 after initial attempt to discipline Tracy for his blogging, they received cease and desist letters from constitutional rights groups like AAUP and FIRE.
But that wouldn't stop school officials from planning to beat the First Amendment.
Former FAU Dean Heather Coltman admitted under oath, as she had noted in early 2013, during meetings with top FAU officials, including FAU's General Counsel and Vice Provost, that FAU officials' first objective following discovery of Professor Tracy's personal blog was to "explore potential misconduct" for the activity: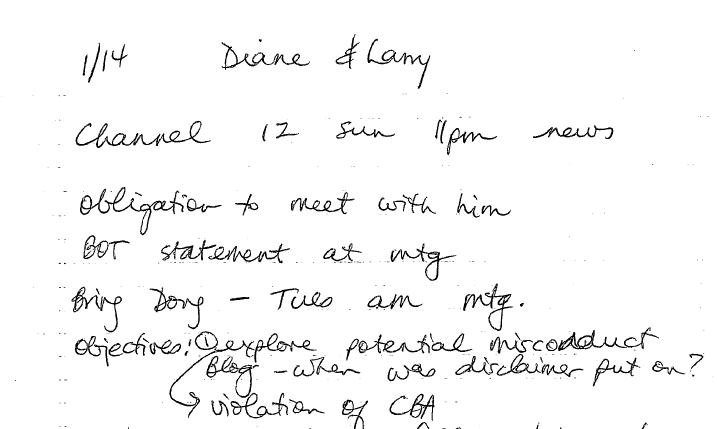 Dean Coltman also documented "talking points" for the University, including an acknowledgement that Tracy's blogging was not academic work, but rather just a hobby: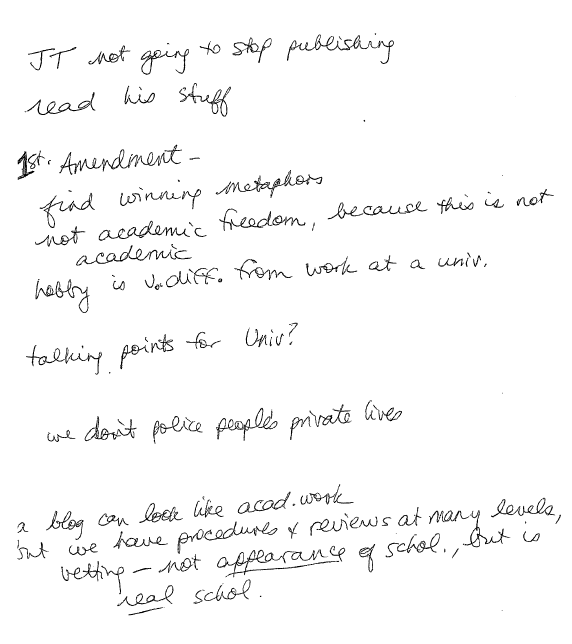 Despite being able to explain away all of the other notes she had recorded from her meetings in 2013, Dean Coltman suffered selective memory loss when questioned at deposition and at trial about her note, "1st Amendment – finding winning metaphors".
While FAU officials may not have wanted to remember or acknowledge what the note meant, anyone with common sense knows what it means.
Government officials were looking for a pretext to retaliate against Professor Tracy for his protected speech.
So, what was the winning metaphor?
In this case, it was a vague, confusing and selectively enforced school policy called the "Conflict of Interest/Outside Activities" Policy. It goes by many other names at FAU, including most often used "Outside Employment", "Outside Business" or "Outside Activities" Policy.
Prior to Professor Tracy's termination in January 2016, the Policy had never before been used to discipline, let alone terminate, a tenured faculty member for failing to report uncompensated online speech.
It should also be noted that Professor Tracy held no employment outside of Florida Atlantic University and never received compensation for his blogging activities.
FAU's Unconstitutional "Outside Activities" Policy
As outlined more in depth in Professor Tracy's legal briefs, FAU's "Outside Activities" Policy (hereinafter sometimes the "Policy") consists of multiple FAU regulations, documents and forms, nearly all of which were created and designed unilaterally by government officials, and were not bargained for by faculty and staff of Florida Atlantic University, nor do FAU faculty and staff have say in the scope and application of the Policy.
The form Professor Tracy was required to report his blogging and other protected speech, which also requires faculty members to affirm compliance with Florida Statutes Chapter 112 is called the "Report of Outside Employment" Form:
This "Outside Employment" form offers check boxes for only four types of activities: "Employment", "Professional Activity", "Compensated Activity" or "Continuing Business Interest".
No check box exists for any form of uncompensated activity, let alone protected speech, like online speech, including blogging or social media activities, etc.
The form also requires faculty to set forth the "Description of Employment Activity".
No reasonable person looking at this form would think their personal blogging, or any other form of uncompensated online speech should be reported as an "Employment Activity".
Significantly, the form expressly states in bold that necessary approvals must be obtained on an annual basis for continuing activities reported on the form.
The Policy is briefly reflected in the UFF-FAU Collective Bargaining Agreement as Article 19.
The Policy is problematic because many necessary terms, like "professional practice, consulting, teaching, or research" are left undefined, leaving the Policy vague and unclear.
FAU's guidelines on the Policy also fail to provide necessary definitions or sufficiently clarify the Policy.
As a result, faculty members, as well as administrators tasked with enforcement of the Policy are left confused, resulting in varying interpretations of the Policy, as well as selective and often arbitrary enforcement.
On September 4, 2015, the following exchange between FAU administrators and faculty members in the FAU Faculty Senate meeting was recorded:
[youtube https://www.youtube.com/watch?v=MdZggfr_rBU]
Despite widespread misunderstanding, confusion and fear that the Policy was being used unconstitutionally to restrict faculty expression and speech, and multiple requests by FAU faculty members for the administration to cease any threats of discipline under the Policy, Professor Tracy was fired just a few months following the meeting for purported non-compliance with the Policy.
Professor Tracy was the first FAU faculty member ever to be disciplined, and terminated for failure to report blogging or any other form of constitutionally protected online speech on an "Outside Employment" form.
After Professor Tracy's firing for failure to report his blog on an "Outside Employment" form, in mid-2016 another tenured FAU faculty member was disciplined for failing to submit complete and accurate "Outside Employment" forms for an outside business interest, in addition to vast array of other violations of school policies, including research misconduct. That faculty member's discipline resulted in only a 5-day suspension. The discipline was later reversed following an arbitrator's ruling that the faculty member had not violated the Policy as alleged by FAU, nor had the faculty member ever received training or instructions on how to follow the Policy.
Prior to Professor Tracy's discipline and termination for failure to submit "Outside Employment" forms for his personal blog, he never received, nor did he ever refuse a single instruction or direction from his supervisor to report the blog.
Notably, in February of 2013 after meeting with his supervisors, Professor Tracy informed Dean Coltman that he did not believe his blog was a "reportable" activity. Neither Dean Coltman, nor any other FAU official ever responded to Professor Tracy's February 2, 2013 letter, like many other communications to his supervisors, including Tracy's multiple unanswered requests for clarification about the Policy in late 2015.
Instead, FAU officials disciplined Professor Tracy in March 2013 for not having a "sufficient" disclaimer on the blog, even though he had a sufficient disclaimer.
The Censorship Begins
After receiving cease and desist letters from constitutional rights groups, FAU pretended to retract its unconstitutional discipline against Tracy. Using its arbitrary internal appeal process, FAU offered Tracy an unfair settlement agreement it never intended to honor, whereby Tracy would be required to use a disclaimer for his blog written by FAU, and would be prohibited from referring to himself as a professor in his online postings.
[Click on Images For Enlarged PDFs]
It was later revealed that FAU never removed the 2013 discipline from Tracy's personnel file, which was the only thing the University had agreed to do:

FAU officials also retaliated against Tracy for his blogging in other ways, including canceling his courses without explanation and changing his teaching schedule to interfere with his child care duties.
Then, more than two (2) years after re-writing Professor Tracy's personal blog disclaimer, FAU officials disciplined and terminated his tenured professorship for purportedly failing to "report" his blog…
Sound pretextual?
Unlawful?
But wait, there's more.
Despite multiple requests from Tracy and other similarly situated faculty members for clarification about the Policy in late 2015, no clarification or additional explanation about the scope and application of the Policy was ever provided to Professor Tracy.
Then, shortly after terminating Tracy for his alleged non-compliance with the Policy, FAU officials attempted to clarify the Policy for all other faculty members:
---
Despite FAU's attempt to clarify the Policy for all faculty members but Tracy, it remains largely unclarified and problematic. For example, the Defendant University admitted not all financial interests of faculty members are "reportable" "outside activities". FAU also admitted gambling is not a "reportable" "outside activity", despite the fact it may be a "compensated" activity and could pose a conflict of time commitment. The University also admitted not all books written by faculty members are "reportable" "outside activities". Moreover, not all honorariums (a monetary award often for uncompensated work) received by faculty members are "reportable".
At trial, one former FAU faculty member and UFF-FAU Grievance Chair testified that in his experience at the University for over a decade, FAU faculty members were not disciplined despite their failure to "report" activities which are unquestionably "reportable", such as teaching at other institutions.
At trial, FAU administrators also admitted that not all faculty members who publish statements online or to the Press (including three FAU faculty members who published an article disparaging Professor Tracy in the Sun Sentinel and Palm Beach Post) are required to use disclaimers or prohibited from using their job titles in online publications like Tracy was.
FAU's selective, arbitrary and non-enforcement of its vague "Outside Activities" Policy has inevitably and indisputably led to widespread fear and uncertainty about the scope and application of the Policy, which remains unclear to this day.
What remains clear, however, is that the Policy is facially unconstitutional, and as applied to Professor Tracy's blogging was an unlawful restraint on protected speech.
"Ethical" Means of Discipline?
Knowing for years that Professor Tracy had not been turning in "Outside Employment" forms for his personal blog (like everyone else at the University who engaged in online social media activities or otherwise), FAU officials waited until the Fall of 2015 to discipline Professor Tracy once more for blatantly pretextual reasons, a time when Tracy, who just had his fourth child, was on paternity leave and not required to be at the University, let alone check his university email regularly.
In 2015, FAU officials blatantly disregarded their obligation to meet with Professor Tracy before disciplining him. They also refused to provide Tracy with clarification about the Policy, despite multiple requests from Tracy, echoing concerns about the unconstitutionally vague Policy that he shared with many other similarly situated faculty members.
When Professor Tracy turned to his faculty union in 2015, instead of defending Tracy and the rights of all similarly situated faculty members, Tracy's union representatives misadvised him by claiming that the discipline sought was "not grievable" through the school's internal appeal process, and that his termination was "likely valid". (Tracy's union representatives would later admit that "anything" is "grievable"…)
Tracy's union representatives also pressured him to resign and not challenge the termination. Instead, Professor Tracy filed a First Amendment lawsuit against the University, school officials involved in the termination and his union representatives for civil rights violations.
How a Federal Court Helped Government Officials Beat the First Amendment
Click here to read Professor Tracy's civil rights lawsuit.
After the Defendants failed to dismiss Tracy's amended lawsuit, six counts, including five federal counts under 42 U.S.C. § 1983, including First Amendment Retaliation, Conspiracy to Interfere with Professor Tracy's Civil Rights, and constitutional challenges to the Defendant University's "Conflict of Interest/Outside Activities" Policy, proceeded to discovery.
Following a lengthy discovery process, which necessitated multiple motions to compel the Defendant University to produce email communications and other evidence of First Amendment retaliation, the Union Defendants entered into a confidential settlement agreement with Professor Tracy and were voluntarily dismissed from the lawsuit.
Professor Tracy then moved for partial summary judgment against FAU:
---
Having presented indisputable, overwhelming evidence of not only First Amendment retaliation, but that FAU's "Conflict of Interest/Outside Activities" Policy was unconstitutional both facially and as-applied to Professor Tracy's blogging, summary judgment should have been granted in Professor Tracy's favor on multiple counts.
Instead, in a miscarriage of justice, the District Court denied Tracy's motion for partial summary judgment, and then dismissed nearly all of Tracy's First Amendment claims, except one single count against the University.
Afterward, Professor Tracy moved for reconsideration of the summary judgment ruling:
The Court denied the motion, and the case proceed to a jury trial on two very limited questions, which should have been answered by the Court in Tracy's favor on summary judgment as a matter of law. Tracy was not permitted to seek or prove damages, in any form, including punitive damages against the University officials who literally recorded their plans to beat the First Amendment, and also didn't follow their own disciplinary procedures and standards in disciplining or terminating Professor Tracy in late 2015.
As a result of the District Court's refusal to make a legal determination as to the constitutionality of FAU's "Conflict of Interest/Outside Activities" Policy, the unconstitutionally vague Policy was left unchallenged.
To make matters worse, the Court excluded from trial significant and critical evidence of the University's unconstitutional use and application of the Policy under the Federal Rule of Evidence 403, including the following:
September 2015 Faculty Senate Meeting Where Multiple Faculty Members Challenged the Constitutionality of FAU's "Outside Activities" Policy & Requested Moratorium on Threats of Discipline Under the Vague & Confusing Policy:
Read the Court's ruling below (p. 55:2-58:19):
Afterward, a largely censored and unfair trial by a misled jury resulted in a verdict completely inconsistent with the facts and the law.
Why does Tracy's case matter?
It seems fitting to end this summation with questions about some very questionable words FAU Vice Provost Alperin used to end Professor Tracy's tenured professorship for not "reporting" a blog she was well aware of:

. . .

Was it reasonable or necessary for government officials to require a tenured government employee to "disclose" a personal blog, that they were well aware of for years, were monitoring and even wrote the disclaimer for, when no conflict of interest was ever determined to exist, let alone could ever exist for the activity?
Are Florida Atlantic University's reporting rules clear?
But that didn't stop FAU officials from pretending otherwise. Or a federal court from helping them get away with it.
It must, however, be noted that despite various rulings inconsistent with the law and facts, the trial court did at least one thing right.
After the close of evidence at trial, FAU moved for judgment in FAU's favor as a matter of law (the federal equivalent of a motion for directed verdict) orally arguing as its grounds a brazen display of doublethink, that: (1) no reasonable jury could return a verdict for Professor Tracy because the Defendant University could not figure out what protected speech Professor Tracy alleged he was fired in retaliation for; and (2) the Defendant University discharged Professor Tracy for his protected blog speech, but Tracy's interest in speaking online about matters of public concern was outweighed by the interests of the University!
FAU's second argument, a/k/a the "Backdoor Pickering Defense", was not only frivolous, but pretty absurd considering at no point in time, and in none of its pleadings, had FAU ever contended it fired Professor Tracy in retaliation for his speech or that FAU's interests outweighed Tracy's free speech interests. In fact, FAU's officials and lawyers went through great lengths to make it look like Professor Tracy's blog speech was not a motivating factor in his termination, even though FAU literally fired Tracy for not reporting the blog speech on a form.
The District Court denied Defendant FAU's motion for directed verdict, rejecting both of FAU's patently frivolous arguments, and most significantly, ruled that Professor Tracy had presented sufficient evidence that a reasonable jury could find that Tracy was fired in retaliation for his protected speech.
The Court also notably ruled that Tracy's online speech, including on his personal blog about government conspiracies was constitutionally protected speech. The transcript of FAU's motion for directed verdict and Court's ruling is still pending, but will be posted here following its eventual release.
What next?
Here's Professor Tracy's initial post-trial motions:
Professor Tracy's Renewed Motion For Judgment As Matter of Law:
---
If Tracy's forthcoming post-trial motions are denied, an appeal of various errors by the District Court will be necessary, including the summary judgment dismissal of Professor Tracy's § 1983 claims challenging the constitutionality of FAU's "Conflict of Interest/Outside Activities" Policy which was used unlawfully as a pretext to terminate Tracy's tenured professorship in retaliation for his protected speech.
Given the Policy at issue can now legally be used as a pretext to target "undisclosed" protected speech, and is shared by many other public universities, this is perhaps the most crucial issue to be addressed on appeal in this case.
The Policy was never intended to be used to restrict or prohibit protected speech. But that didn't stop FAU officials from claiming Professor Tracy was "required" to submit his blogging for approval and "management", or by failing to do so, he may be dismissed for "insubordination".
This is very dangerous precedent which may already be used as persuasive authority in the 11th Circuit by other district courts.
If these rulings stand, FAU and similar institutions in our circuit and beyond will undoubtedly feel much more comfortable using vague, confusing and shifty government policies to require government employees, and other tenured educators like Professor Tracy, to "disclose" protected speech, and to get rid of anyone they disagree with who hasn't "reported" it.
Stay tuned for additional updates about the case. You can also learn more via the Florida Civil Rights Coalition.